Steel reducers
Butt welding reducers are produced by pressing. The semi-finished product is rolled seamless tubes.
Reducers are mainly used as part of pipelines in the construction, energy engineering and mining industry.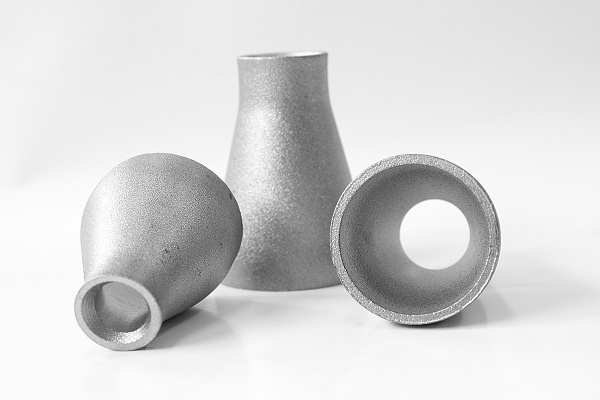 Dimensions of welding reducers
OUTER DIAMETER (D)
26,9 – 114,3 mm
(NPS 3/4 – 4)
WALL THICKNESS (T)
2,3 – 3,6 mm
Dimensions of delivered reducers are shown in dimensional table.
Steel for butt welding reducers
Reducers are made from carbon and low alloy steels.
The input tubes and ready made reducers are tested according to requirements and the appropriate standards.
Ends customization of the reducers
Upon agreement it is possible to supply reducers with a wall thickness of more than 3 mm with adjustment for a weld according to DIN 2559 standard
Marking of the welding reducers
Reducers are marked as required by standards or agreement.
Marking is done usually by stamping the agreed data.
Certificates are issued according to either:
DIN 50 049 or
EN 10 204.
Dimensional tolerances of welding reducers
Dimensional tolerances are in accordance with relevant standards.
The input tubes used for production of reducers are heat treated.
Reductions are delivered with the inner and outer surface descaled not preserved, without surface protection or with surface treated by blasting.

+421 48 6451111
Ask for quote

We use cookies
We use cookies and other tracking technologies to improve your browsing experience, to show you personalized content and targeted ads, to analyze our website traffic, and to understand where our visitors come from.
By clicking on "Accept all", you agree to the use of ALL cookies. However, you can visit "Cookie settings" and provide controlled consent. By clicking on the "X" you reject all cookies except the functional ones and close.
COOKIE - Steel tubes Železiarne Podbrezová, a.s. ... read more
Privacy Overview
This website uses cookies to improve your experience while you navigate through the website. Out of these, the cookies that are categorized as necessary are stored on your browser as they are essential for the working of basic functionalities of the website. We also use third-party cookies that help us analyze and understand how you use this website. These cookies will be stored in your browser only with your consent. You also have the option to opt-out of these cookies. But opting out of some of these cookies may affect your browsing experience.